New York City, August 5, 2018
In the heart of New York City, Bryant Park became the stage for a cultural celebration that united diverse communities through music and artistry. The Asian Culture Center and the Asian Cultural Symphony of USA presented a captivating performance on August 5, 2018, at 6:30 pm. This event was a testament to the power of music to transcend cultural boundaries, bringing together a rich tapestry of backgrounds and experiences.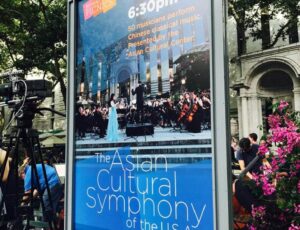 Among the exceptional performers was Fiona Hui, a celebrated vocalist known for her extraordinary vocal range and versatility. Backed by the Asian Cultural Symphony of USA, Fiona's passionate and graceful performance left the audience spellbound. Her ability to connect on a profound emotional level, irrespective of language barriers, was evident as she sang with elegance and fervor.
The event, a resounding success thanks to the dedication of organizers, artists, and volunteers, underscored the role of the arts in fostering unity and understanding. Fiona Hui's performance, along with the collective talents on display, left an indelible mark on the hearts of those who gathered under the stars in Bryant Park. It was a night of celebration, community, and cultural exchange, leaving everyone with cherished memories of a spectacular evening. Relive the magic by watching the event video.